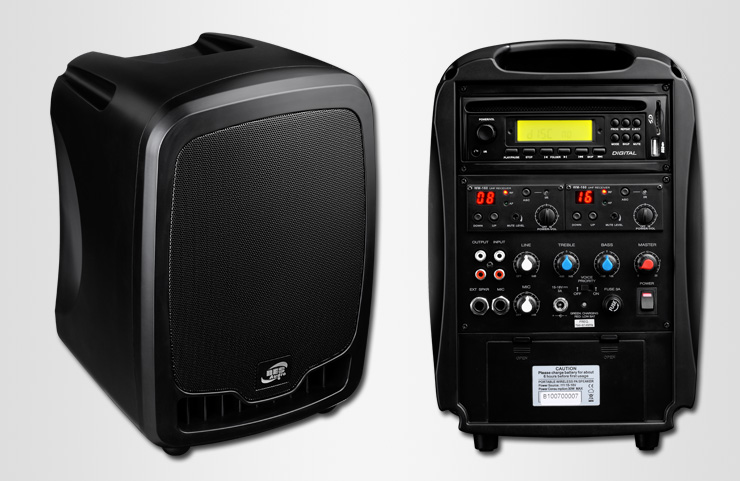 ◆ Maximum Output Power is 100W with 4Ω Load (Music)
◆ 6.5」 full range coaxial speaker unit.
◆ Integrated Class-D amplifier substantially enhances efficiency and battery life.
◆ Build-in UHF receiver module
(Optional CD player or Cassette unit can be installed).
◆ Build-in MP3 player.
◆ Build-in equalizer.
◆ Build- in rechargeable battery and smart charging circuit can rapid charge the unit.
Max Power Output: Max.30w(RMS)/4ΩLoad
Distortion: <0.5%
Frequency response: 580-870MHz
Input: Wireless receiver/CD/TAPE/Wired Mic/Line In
Speaker System: 6.5″ full range speakerPower
Power supply: Built-in Battery or DC 15~18V 2000mA
Batt: 12V/2.6Ah
Recharge Time: About 6 Hour
Receiver Module: PLL Synthesized UHF band
Wired Microphone: BES or other compatible brand
Wireless Microphone: Handheld/Lavalier/Headset
Output: Speaker/Line out
Dimensions: 313mm×220mm×215mm
Weight: 6KG
Color: Black