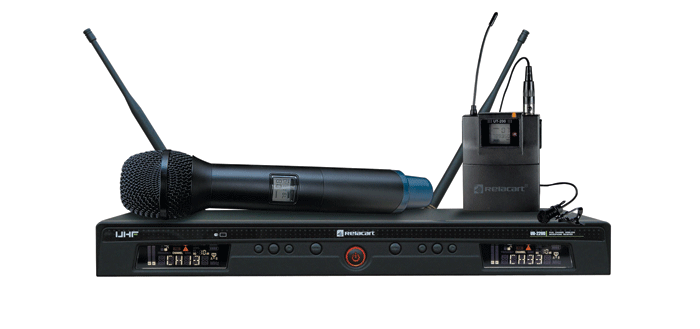 Key Features:
● 

Metal materials EIA-standard 

1-rack receiver chassis with two transmitters, antenna diversity.

● The transmitters offer durable, magnesium bodies, soft-touch controls.

● 

Bright and easy-to-read LCD display shows RF/AF, diversity strengths; transmitter battery level; meanwhile, can set up selective channel, frequency, mute and other working status.

● 

Press the "AFS"(Auto Frequency Selection) button 3S and the receiver will auto-scan and lock on to an open, interference-free frequency.

● 

Press [IR] button to upload automatically the receiver frequency to the transmitter.

●

 PLL (

Phase Lock Loop frequency control)

 design ensures transmission reliability,

 

"Noise Lock" 

squelch effectively blocks stray RF.

●

 

Each channel 32 selectable frequencies, dual-channel 64 selectable frequencies.

●

 Battery life is twice as common, up to 15 hours.

● 

Designed for use on professional tours, concert halls and houses of worship. Stable functions, reliable and flexible performance, easy to install.
UR-220D Receiver
| | |
| --- | --- |
| Main Frame Size | EIA STANDARD 1U |
| Channels | Dual Channel |
| Frequency Stability | ±0.005%, Phase Lock Loop frequency control |
| Carrier Frequency Range | UHF 554-936 MHz |
| Digital Equalizer | Preset Microphone Capsule Modeling |
| Modulation Mode | FM |
| Operating Range | 60M typical ( in open space) |
| Oscillation | PLL synthesized |
| Sensitivity | 5dBμV, S/N>60dB at 25 deviation |
| Band Width | 32MHz |
| Max.Deviation Range | ±45KHz |
| S/N | >105dB |
| T.H.D. | <0.7 % @ 1KHz |
| Frequency response | 45Hz~18KHz±3dB |
| Power Supply | 100-240V AC50/60 Hz, 10W |
| Weight | 2.2KG |
| Dimension | 410(W) X 43(H) X 206(D) |
| Output Connector | XLR balanced & 6.3φ phone jack unbalanced |
UH-200 Handheld Microphone
| | |
| --- | --- |
| Carrier Frequency Range | UHF 554-936 MHz |
| Oscillation | PLL synthesized |
| Harmonic radiation | <-63dBm |
| Bandwidth | 134MHz |
| Max.Deviation Range | ±45KHz |
| Microphone Element | Cardioid Dynamic / Cardioid Condenser |
| RF Power Output | 15mW |
| Battery | AA X 2 |
| Current Consumption | 110mA ( typical) |
| Battery Current / Life | Approximately 15 hours |
| Dimension | 52(Φ) X 255 (L) |
| Weight | 285g ( w/o battery) |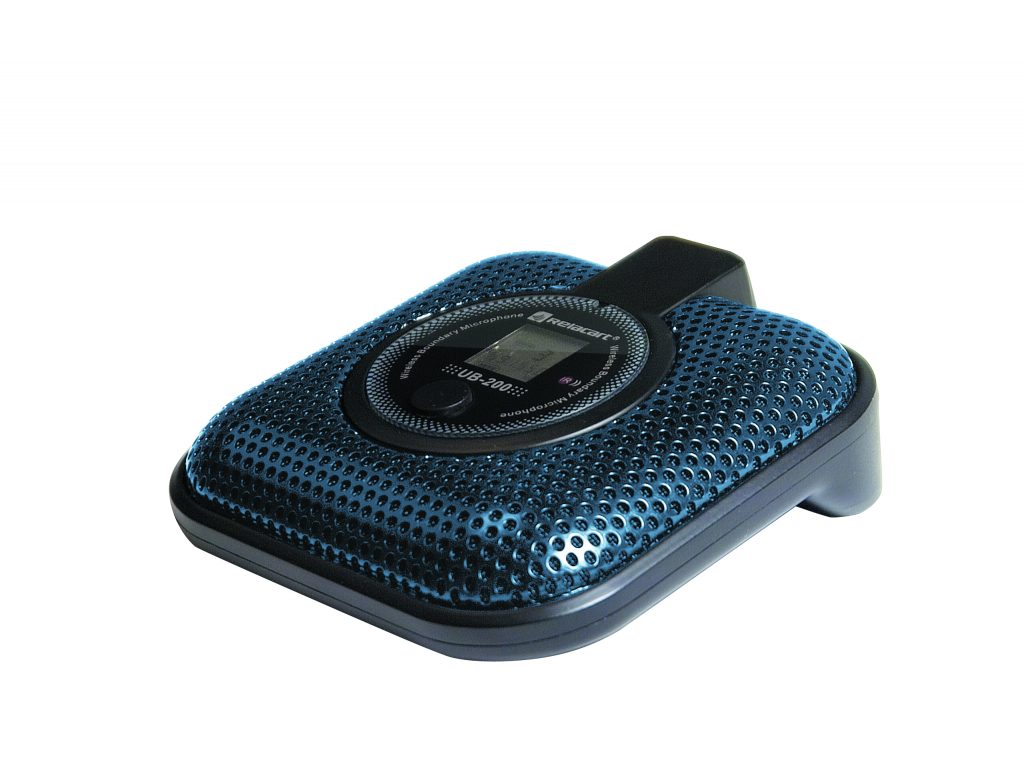 UB-200 Boundary Microphone
| | |
| --- | --- |
| Element | Fixed-charge back plate, permanently polarized condenser |
| Polar Pattern | Half-cardioid (cardioid in hemisphere above mounting surface) |
| Carrier Frequency Range | 490MHz~860 MHz |
| Modulation Mode | FM |
| Frequency Response | 50-17,000 Hz |
| Max.Deviation Range  | ±45 KHz |
| Operating Range | 60M typical ( in open space) |
| Current Consumption | 90mA, typical |
| RF Power Output | 30mW |
| Dynamic Range (Typical) | > 90 dB,1 kHz at Max SPL |
| Battery | AA X 2 |
| Battery Current / Life | Approximately 10 hours |
UT-200 Body-pack Transmitter
| | |
| --- | --- |
| Carrier Frequency Range | UHF 554-936 MHz |
| Oscillation | PLL synthesized |
| Harmonic radiation | <-63dBm |
| Bandwidth | 134MHz |
| Max.Deviation Range | ±45KHz |
| Input Connector | 4-pin mini-XLR connector |
| RF Power Output | 15mW |
| Battery | AA X 2 |
| Current Consumption | 100mA (typical) |
| Battery Current / Life | Approximately 15 hours |
| Dimension | 84(H) X 66(W) X 23(D) |
| Weight | 116g |
UB-200 Boundary Microphone
| | |
| --- | --- |
| Element | Fixed-charge back plate, permanently polarized condenser |
| Polar Pattern | Half-cardioid (cardioid in hemisphere above mounting surface) |
| Carrier Frequency Range | 490MHz~860 MHz |
| Modulation Mode | FM |
| Frequency Response | 50-17,000 Hz |
| Max.Deviation Range  | ±45 KHz |
| Operating Range | 60M typical ( in open space) |
| Current Consumption | 90mA, typical |
| RF Power Output | 30mW |
| Dynamic Range (Typical) | > 90 dB,1 kHz at Max SPL |
| Battery | AA X 2 |
| Battery Current / Life | Approximately 10 hours |